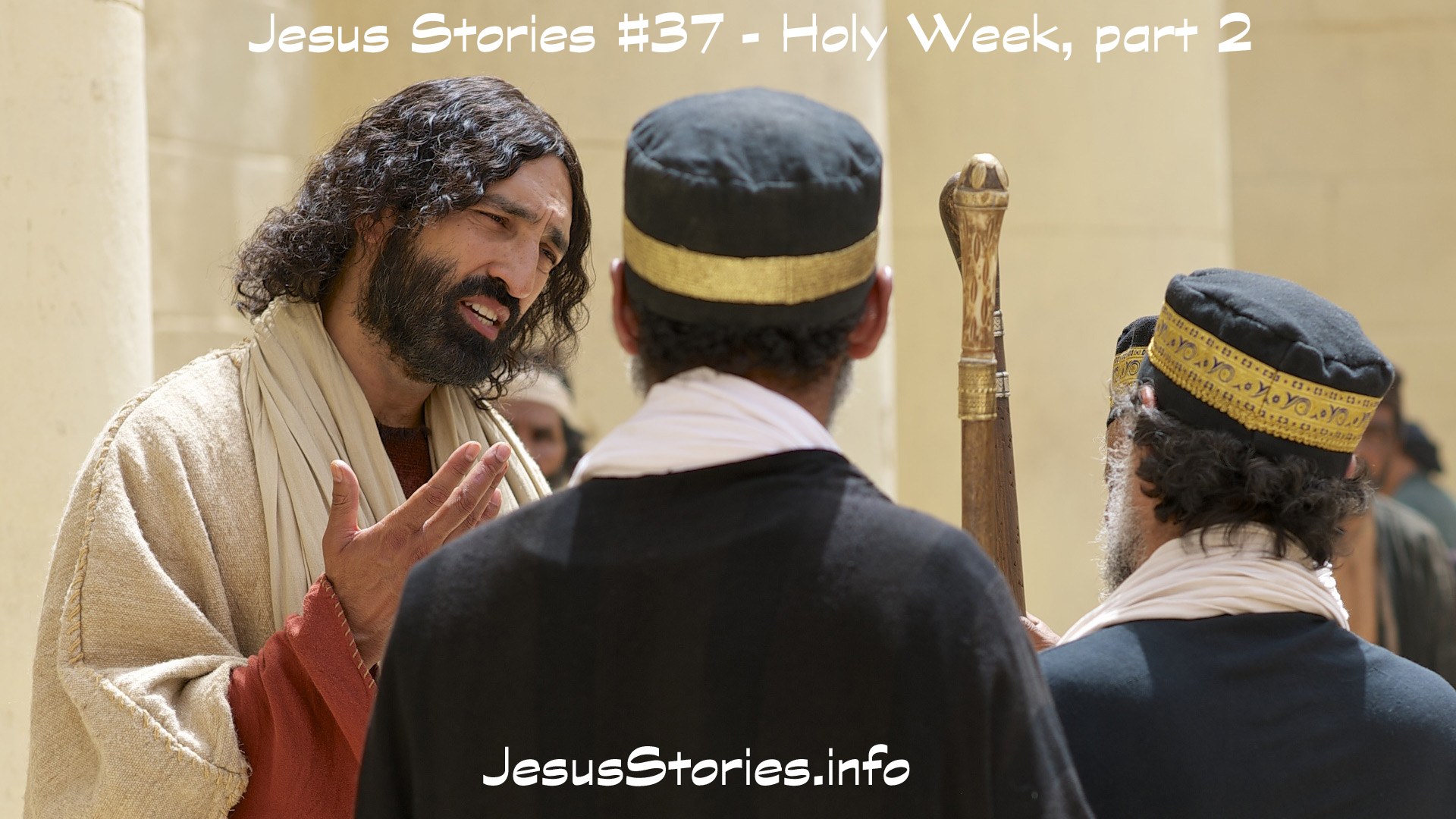 Podcast: Play in new window | Download
WHAT HAPPENS IN THIS EPISODE:
The Sadducees come to Jesus with a question with a question about marriage in Heaven
A Teacher asks, "Of all the commandments, which is the most important?"
Jesus asks the Pharisees, "What do you think about the Messiah?"
Jesus castigates the Pharisees for their hypocrisy
Jesus grieves over Jerusalem
We hear the lesson of the widow's offering of two pennies
SCRIPTURES USED IN THIS EPISODE:
WOULD YOU HELP FEED HUNGRY UKRAINIANS?
Jesus Stories is proud to help support a great international cause. And it is really easy for you get involved in this effort. Podchaser is great platform for finding great podcasts for your listening pleasure. We are pleased to be on this platform.
Right now, for every review that is left on Podchaser of this or any other podcast, Podchaser will donate 25 cents to World Central Kitchen Chefs for Ukraine effort. What is World Central Kitchen? It is an organization which responds to humanitarian, climate, and community crises to provide meals. Their idea? When people are hungry, send in cooks; not tomorrow, today! They currently provide round-the-clock meals at eight border crossings out of Ukraine. Plus they are supporting restaurants providing meals in Odessa, Lviv, and Kyiv. And they are working in the adjoining countries of Romania, Moldova, and Hungary.
So, won't you leave a review at Podchaser about this podcast? Links are below.
By the way, when you leave a review, I'll match the 25 cent donation with 25 cents of my own through Podchaser. So, your review will be worth a 50 cent donation to this worthy effort. Come on. Help us feed some hungry people! It's the work of Jesus!
https://www.podchaser.com/podcasts/jesus-stories-1572459
Other agencies who are offering help to the Ukraine with your assistance:
Eastern European Mission: This non-profit (501c3 for IRS purposes) has been working in Eastern Europe since 1961 and has a network of churches and individuals through which to send help to the Ukraine and to the countries accepting refugees.
LCC International University: This University is located in Lithuania and educates people from all over the world. A large percentage of the students are from Ukraine. At this time, they have issues getting to their monies. The University and its staff are working to help them out. This will help those students.
Find us on social media platforms:
We're on most of the podcast platforms. Just don't forget to subscribe where you listen and leave a rating for us there and on Apple Podcasts.
If you'd like to be a sponsor for this podcast, want to leave a comment or a correction, contact us at jesusstories@outlook.com. Check this link for sponsoring this podcast on a monthly basis.
Unless otherwise indicated, all Scripture quotations are taken from the Holy Bible, New Living Translation, copyright © 1996, 2004, 2015 by Tyndale House Foundation. Used by permission of Tyndale House Publishers, Inc., Carol Stream, Illinois 60188. All rights reserved.